Oracle VM Virtual Box is an open source virtualization software. You can install on top of Windows, Linux, Mac or Solaris. You can create Virtual machines that can be used to run guest operating system like Windows, Linux, Solaris.
This article will explain how to install Oracle VM Virtual Box in Windows and create Virtual machines to install Linux as Guest operating system.
Before we proceed let's download all the required software's for this installation and configuration. All the below mentioned software's are open source.
Install Oracle VM Virtual Box
Double click the Oracle VM Virtual Box installer (VirtualBox-4.3.16-95972-Win.exe) to start the installation, then follow the onscreen steps to finish installation as shown in image – 1.
After successfully installation of Oracle VM Virtual Box double click the Oracle VM VirtualBox shortcut on desktop to open.
Click on New select Version, Type and Name the OS as like shown in image – 2

Click on Next and allocate memory as shown in image – 3

By default it will ask you to create a Virtual Hard Drive now. Go with that as shown in image – 4

Then select Hard drive file type. Select (VirtualBox Disk Image) as shown in image – 5

Then select Dynamically allocated storage as the Virtual Box file size would increase after use as shown in image – 6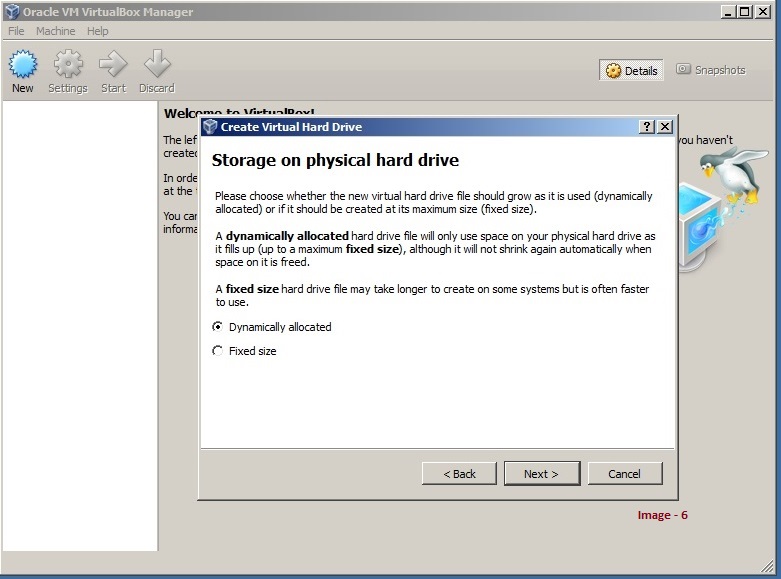 Then assign the Virtual Hard Drive size… Default it will be 8 GB.. you can extend as per your need… Else leave as it is as shown in Image – 7

By default the new Virtual Hard Drive file will save in C:\Users\xyz\Virtual Vms\ you can change the location here as shown in image – 8
Now all set click on Create.
Till now we have installed Oracle VM Virtual Box and created VM, next is how to install Linux as Guest Operating system using that VM.
I will explain the installation in 2nd part of this post… Go to 2nd part. Click here
You may also like: VPN Connection issue in Windows 10